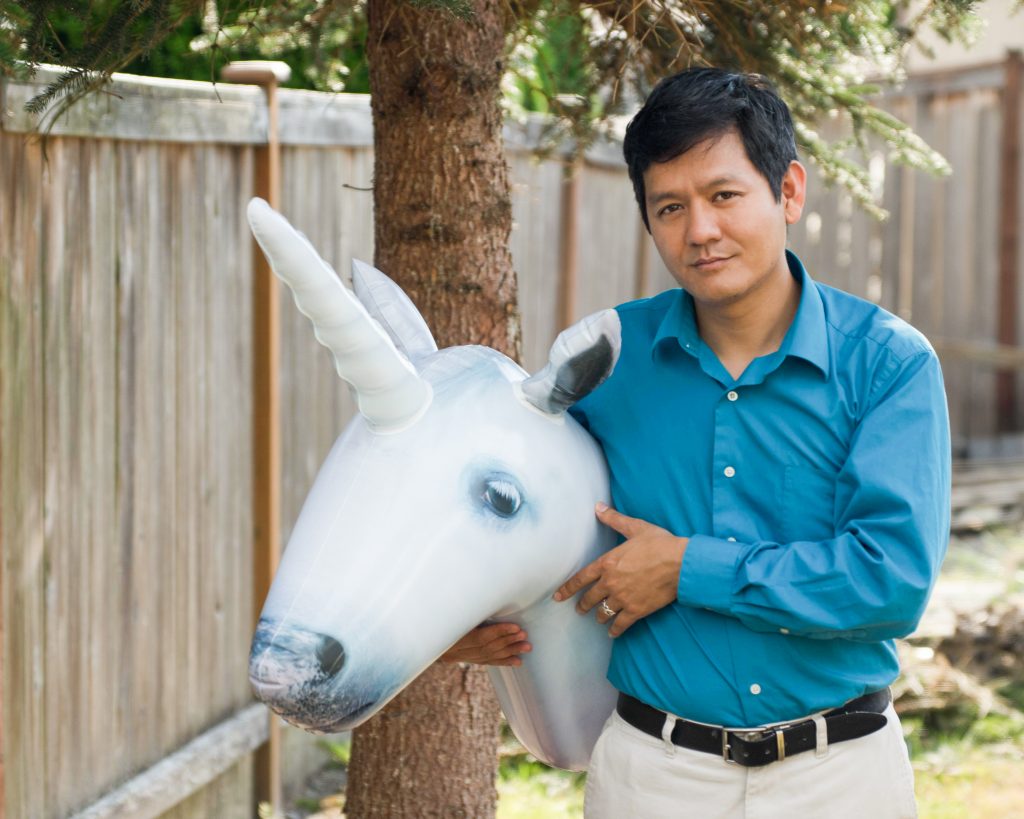 Vu Le ("voo lay") is a writer, speaker, vegan, Pisces, and the former Executive Director of RVC, a nonprofit in Seattle that promotes social justice by developing leaders of color, strengthening organizations led by communities of color, and fostering collaboration among diverse communities.
Vu's passion to make the world better, combined with a low score on the Law School Admission Test, drove him into the field of nonprofit work, where he learned that we should take the work seriously, but not ourselves. There's tons of humor in the nonprofit world, and someone needs to document it. He is going to do that, with the hope that one day, a TV producer will see how cool and interesting our field is and make a show about nonprofit work, featuring attractive actors attending strategic planning meetings and filing 990 tax forms.
Known for his no-BS approach, irreverent sense of humor, and love of unicorns, Vu has been featured in dozens, if not hundreds, of his own blog posts at NonprofitAF.com.
When do new posts get published?
There's a new post once a week on Tuesday, usually at 2 or 3am, except on holidays, in which case it may be delayed by a day or two. Quality of posts is directly and inversely related to how late he stays up watching The Mandalorian or Star Trek Discovery. He usually takes off the last two weeks of December as well as the entire month of July and possibly August.
Can I use/repost your stuff?
Feel free to use excerpts (about one or two paragraphs) of any posts you like, as long as you credit and link back to NonprofitAF. If you want to reprint a post in its entirety, it will incur a cost. Please email nwbspeaking@gmail.com. (And don't change anything, except minor typos, because Vu HATES other people editing his work, which he has carefully crafted during commercial breaks of his favorite TV shows.)
Do you accept guest posts?
No. Sorry, it would take time and energy to read submissions and curate others' work. Vu has very little time, being a father and a writer, and little energy, being vegan, to do all that at this point. Plus, he doesn't want to hurt people's feelings by selecting some posts to publish and not others.
What can I do to support Nonprofit AF?
If you like what you're reading, be a supporter on Patreon and pay a few bucks a month. Also please follow this blog by email (scroll on the right to where it says "Follow NAF by email") and tell your friends about it. It'll motivate Vu to write. Every time there's a new subscriber, he gets an extra push to write.
Share posts you like. And comment once in a while. He, like all other nonprofit humor bloggers, has very low self-esteem, so your comments and likes keep him writing. Once a while, email him and tell him how awesome the blog or a specific post is. He really appreciates the encouragement. Also, go "like" him on Facebook.com/nonprofitAF and @nonprofitAF on Twitter and Instagram.
More FAQs here.
Personal stuff
Vu is a father of two kids (a ten-year-old and a seven-year-old as of April 2023).
Speaking engagements
Vu does keynotes, panels, and other speaking gigs and can talk about a variety of subjects: funding dynamics, cultural competency, self-care, unicorns, and what Star Trek and mushrooms can teach us about nonprofit and philanthropy. Read more info and contact his booking agent at NWBspeaking@gmail.com